Remote jobs, also known as telecommuting jobs or flexible jobs, are now a growing opportunity in today's job market.
Remote work is not a trend, it's here to become the future of work.
State of Remote Report of 2019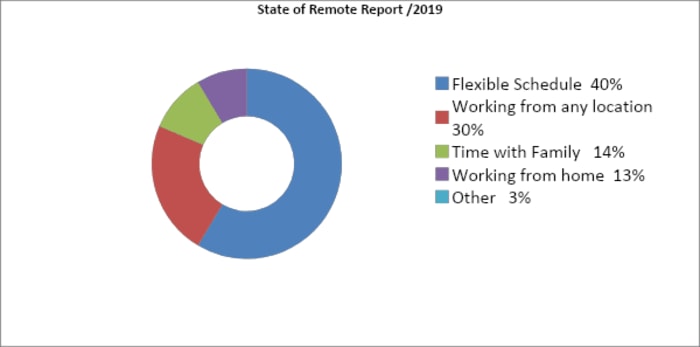 Remote working gives you the opportunity to work at any point in anytime and anywhere. Flexible jobs are getting more popular day by day, if you are a job seeker you would need to scout through some web sites that can lead you to a vacant remote position. Here is a list of websites to visit in order to find a perfect job for your specific role.
We Work Remotely
It is a catch-all job portal for a wide variety from software engineering to the administrative role to customer service.
Their catchy tagline is "office not required". It is the largest remote work community in the world with over 2.5 million visitors monthly.
It has remote opportunities at top tech companies such as Google, Amazon, and Basecamp. It has a simple user interface that makes searches easier.
FlexJobs
FlexJobs has wide career categories, over 50 of them, with jobs ranging from freelance to full-time, entry-level to executive. Jobs are usually screened before posted.
Working Nomads
Working Nomads was formerly known as goRemotely. They deliver a list of remote jobs right to your inbox after subscribing to them. You get to choose how you receive the mails; either daily or weekly.
Remotive
Remotive runs a remote job platform, remote work community, and newsletter with a comprehensive list of remote positions. It also displays location restraints under each job posting to make it easier to access jobs within your specific location.
Virtual Vocations
Virtual Vocations' platform supports It was initiated by a stay at home mom out of her frustration to get a legitimate remote job. It is run entirely by a remote team. Tips on their blog are really great, do check them out.
Stack Overflow
Stack Overflow is another popular go-to jobs board for various top tech talents especially, web developers.
On this site, developers always come first. All you need to do is, type "Remote" in the location field when searching so as to see the various remote opportunities available.
Fiverr
This is specifically a platform for freelance and contract workers, where one can find remote opportunities. The website focuses on gigs – small, quick jobs such as editing voice recordings, transcribing, etc.
Freelancer.com
It is the world's largest freelancing and crowdsourcing marketplace. The website connects over 44 million employers and freelancers across the world. You don't need to sign up with a profile before being able to access jobs.
Upwork
Upwork features a lot of job categories such as administration support,, engineering, architecture, customer service and sales and marketing. It is a huge freelance marketplace. Companies such as Dropbox, Airbnb, Microsoft benefits from its freelancers. Unlike, Freelancer.com, you need to create a profile in order to view and apply for jobs.
6nomads
6nomads is a full time remote- focused platform which deals in recruiting and technically assessing tech talents for remote companies. Developers, mainly engineers, and designers are screened and verified automatically before they are matched to a fast-growing tech startup.
Digital Nomads
They are generally a category of people who use telecommunications technologies to earn a living. Often times, these workers are from foreign countries and tend to work at vantage places like a public library, co-working spaces, open facilities with wireless internet.
Running Remote
It is the world's largest conference for remote workers. This platform grants a great opportunity for quite a lot of workers from over 60+ countries to network. This is conference is held to teach you strategies, tactics, and ways to action plans in the next level.
Remo.co
Remo.co is a video-first top-down virtual office that makes remote team exudes a great feeling of working together. They humanize virtual events and workspaces.
Remote-How
It is a virtual co-working space organized by and for a community of professionals working remotely. A digital workspace designed for one to meet, work, and vibe with equally talent-driven and ambitious individuals from various parts of the world.
Conclusion
You don't need to worry about work while at home, you can sign up to any of these10 remote websites, and voila, you might definitely get a role to play remotely. All the best in your job search; don't forget to share with family and friends interested in getting involved in flexible jobs.