We all have people we want to follow on social media. It could be as a result of their industry or their personal posts. For the remote workers, freelancers, and digital nomads out there, the best way to enjoy social media is to follow remote work influencers and advocates, freelance experts, and digital nomads.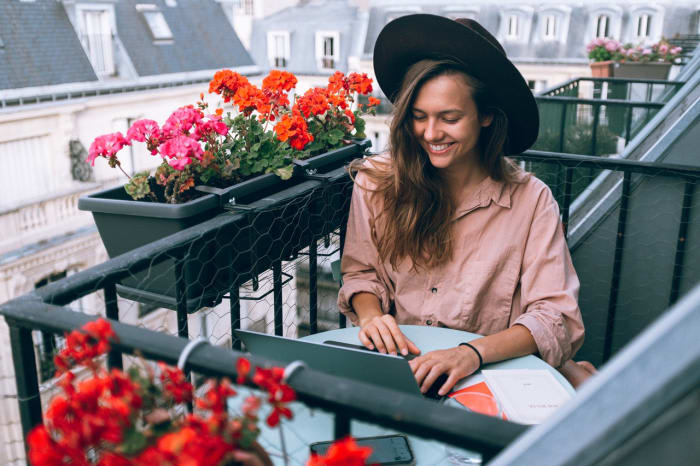 Thankfully, we combed the web and brought you a long list of the remote work influencers, advocates, and experts of their content you should consume. If you're an individual or a company looking to go remote or scale your remote organization, you'll get value following these people.
Let's get started.
Sahin Boydas
Coming from an engineering background, Sahin Boydas has been in the entrepreneurship and startup scene almost all of his adult life. He has founded 5 startups with 3 successful exits. The latest on his founding list is RemoteTeam Inc., a complete HR tool for remote companies.
Follow Sahin on LinkedIn & Twitter
Jason Fried
Know Basecamp? Yes, the project management platform with 3.3 Million accounts. Jason Fried is co-founder and CEO of Basecamp. Jason isn't just a remote work advocate, but also builds tools such as Basecamp to help remote companies manage their projects.
Jason is the co-author of the New York Times Bestselling book on entrepreneurship, work, and making it as a solo-entrepreneur, Rework. Want more? Jason writes the monthly "Get Real" column for Inc. Magazine.
Follow Jason on Twitter Linkedin
Scott Dawson
Another great remote advocate to follow is Scott Dawson, a UI/UX expert. Scott takes his love for remote work further, creating the site The Art of Working Remotely to educate remote workers and companies on how to face the future of work. He's also the author of the book The Art of Working Remotely: How to Thrive in a Distributed Workplace. Scott is also the moderator of RemoteChat. Join 7,000+ people and brands on Twitter to learn more about remote working from Scott Dawson.
Andreas Klinger
Andreas Klinger has been a long-time advocate of remote work. He previously led all things tech at ProductHunt, but now in charge of remote at both AngelList and CoinList. Aside from his work with remote-centric teams, Andreas is also an investor in a remote work startup. Andreas is deep into the future of remote work and worth following. You will be part of 33,000+ people on Twitter consuming his remote work content.
Follow Andreas on Linkedin
Job van der Voort
From engineering and product roles at GitLab to running startups, Job has roamed the tech and startup world for a long time. Job, after realizing the impact of remote work in our future, left GibLab to help create a future for companies and employees who want to work from anywhere around the world. Job van der Voort is the host of a popular remote work podcast, Remote Work Pod. He is also the co-founder of Remote, a remote company helping build the backbone of remote work.
Follow Job on Twitter Linkedin
Gary Walker
Continually interested in exploring new technologies and the digital world, Gary Walker is a remote work advocate who is also helping build the future of remote teams for companies and employees. Gary is a product director and remote work consultant for remote working and product strategy developer and consultancy 22North. Apart from this role, Gary Walker is the creator and host of the future of work podcast Enlighten, founder of remote work consultancy Ready For Remote, and a speaker on the future of work, digital disruption, and remote working.
Follow Gary on Twitter
Tammy Bjelland
Tammy is an e-learning professional who has consulted for many big names in education and founded the education company Learning in Bloom. Tammy is a remote work advocate who sees the potential in companies and employees working remotely and wants to help shape that future. As a result, Tammy has taken her love of education into the remote work industry – and as the founder and CEO of Workplaceless, Tammy is helping teach companies and individuals how to go remote and succeed at it.
Follow Tammy on Twitter Linkedin
Brooke Hurford.
Having served s a front end developer and project manager for some brands, Brooke Hurford has developed a love for the remote working culture and see it as the future of work. Brooke is a remote work advocate and founder and COO of WorkFrom, a company that helps remote workers from around the world discover great places to get work done. You'll consume great remote-related content when you follow Brooke Hurford.
Follow Brooke on Twitter Linkedin
Angelina Ebeling.
With a background in marketing, strategy, and consulting, Angelina Ebeling is passionate about the future of work and remote teams. Angelina is a keynote speaker on distributed teams and working remotely. Angelina is also the founder and CEO of Acework, a startup that matches the best remote talent with companies. Follow Angelina for thought-provoking pieces on remote working and building distributed teams.
Follow Angelina on LinkedIn
Sergi Mateo
After roaming the digital marketing and social media world for almost 10 years, Sergio found love in helping remote companies and remote talent work together. Sergio Mateo is the founder and CEO of Workew, a platform for companies to hire the best remote talent. You will get to consume content on remote hiring, remote work, and talent acquisition when you follow Sergio. Oh, you may have a chance to also practice your Spanish language.
Follow Sergi on Twitter LinkedIn
Brittnee Bond.
Brittnee Bond has bonded well with the remote work culture and has been in this space for a long time. As someone who empowers women entrepreneurs, Brittnee specializes in educating the masses about remote work, consulting companies on how to move their teams to remote, and helping individuals who want to work from wherever. Brittnee is the founder and CEO of Remote Collective, a company that specializes in chronicling the journeys of companies and individuals working remotely and helping them take it to the next level.
Follow Brittnee on Twitter LinkedIn
Yanislava Hristova
Yanislava Hristova is a techy who loves the technology's connection with humans and how we can better leverage that for better work and life. Yanislava has been roaming the HR world, leading talent teams and consulting on human resources for many companies. The zeal in tech, humans, and HR led Yanislava to create Remote IT World, a startup that connects remote talent with companies around the world. Aside from being the founder and community manager for Remote IT World, Yanislava is also a SaaS Product and Remote Culture Advisor at CodersRank and worth following.
Follow Yanislava on Twitter LinkedIn
Maryellen Stockton
Maryellen Stockton is another name you would love to follow if you want to consume great content on remote working and the future of work. Maryellen is a remote work consultant, a specialist on people operations and culture, and the founder of remote work coaching, training, and consulting startup Work Well Wherever. Check Maryellen's content on LinkedIn.
Iwo Szapar
Iwo Szapar is a remote work advocate and the co-founder and CEO of Remote-How, where he has helped built and launched many products, including the Remote-how Academy, Remote Future Summit, and Remote-how Match. If you want content on creating and scaling a remote team, Iwo is a gem to follow on LinkedIn Twitter.
June Bolneo
Working remotely? Looking to transition your brick and mortar to remote? June Bolneo is a remote work advocate who is not just helping companies and individuals go remote, but is also helping build the tools and platforms to make this possible. June Bolneo is the Portugal country lead for remote work company Grow Remote and the founder of WorkRemote, a startup that helps companies to hire, train, and manage remote employees.
Follow June on Twitter LinkedIn
Gonçalo Hall
Gonçalo Hall is a remote work advocate who is out to help SaaS companies implement remote work. Gonçalo also organizes conferences and meetups to help shape the future of remote work for individuals and companies. Gonçalo is a remote work and distributed workforce consultant at Remote-How Inc., co-founder of Portugal's remote work conference Remote Shift, and the founder of the Remote Work Movement.
Follow Gonçalo on Twitter LinkedIn
Nitesh Agrawal
Nitesh Agrawal is an entrepreneur who has founded startups and helped build and manage events and projects. Nitesh is a mentor at the Alchemist Accelerator and the co-founder and CEO of Indiez, a startup that is "shaping the future of work. Democratizing technology for non-technical organizations by helping them build best in class technology. The secret sauce – A network of top 1% digital teams from 30 countries vetted very heavily".
Follow Nitesh on Twitter LinkedIn
Camille Attell
Camille Attell is a remote work and digital nomad advocate, coach, and speaker who is helping people build and improve their digital nomad and remote careers. Camille is currently a content developer and the founder of Remote Work School, a brand that teaches people how to go remote or become digital nomads. Follow Camille on LinkedIn for great content on remote working, digital nomad lifestyle and more.
Sara Sutton
Sara Sutton is a remote work advocate, an expert in the future of work, speaker, and the founder and CEO of the largest remote working, freelancing, and part-time job platform FlexJobs. If you're in the market for the latest, best, and thought-provoking content on the future of work, work flexibility, and remote work, Sara will give you that and more on Twitter LinkedIn
Lisette Sutherland
The future of work and how remote work will shape the future are some of the things that interest Lisette Sutherland. Lisette is a public speaker, a remote working champion, author of Work Together Anywhere, and the director of Collaboration Superpowers, a startup that helps teams work together anywhere. You can follow Lisette Sutherland's blog and newsletter at lisettesutherland.com
Follow Lisette on Twitter LinkedIn
Kate Kendall
A lover of the indie way and remote work. Founder of Indie Labs and CloudPeeps, as well as a member of Atto Accelerator, a remote accelerator helping women founders. Kate also runs IndieConf.
Follow Kate on LinkedIn Twitter
22. PiIar Orti
Director of Virtual Not Distant and a consultant for companies transitioning to remote and remote teams wanting to manage their employees better.
Follow Pllar on Twitter
Anna Auerbach
Future of work and work flexibility advocate. Co-founder and CEO of Werk, a startup that uses behavioral science and data to help organizations create a more flexible workforce.
Follow Anna on LınkedIn Twitter
Nicki Trautmann Bellington
Nicki Bellington is an HR professional, who is passionate about working remotely, and currently the head of remote talent programs at Atlassian.
Nicki on LinkedIn
Darcy Boles
Darcy Boles is highly experienced in employee management, a remote work advocate, and head of the employee experience at TaxJar, a company that operates a 100% remote team.
Laurel Farrer
Laurel Farrer is a writer, Forbes contributor, and a remote work advocate and consultant. Laurel is the founder of the Remote Work Association and CEO of Distribute Consulting.
Egor Borushko
Egor Borushko is a remote work advocate and the co-founder of Running Remote, one of the largest conferences on running a remote company.
Follow Egor on Twitter LinkedIn
Greg Caplan
Greg Caplan is the founder and CEO of Remote Year, a startup that helps remote employees travel and work together around the world.
Follow Greg on Twitter LinkedIn
Ho Yin Cheung
Ho Yin Cheung is an entrepreneur and creator of Remo, a startup that helps remote teams to collaborate and connect better.
Follow Ho Yin on Twitter LinkedIn
Mike Hostetler
Mike Hostetler is an entrepreneur, Director of Engineering at Cars.com, and passionate about remote work and its future.
Follow Mike on Twitter
Stella Garber
Sella Garber is a serial entrepreneur, head of marketing at project management software Trello, a remote work advocate, and the author of "Remotely Managing".
Follow Stella on LinkedIn
Jon Younger PhD
Jon Younger is an HR thought leader and an independent consultant at the Agile Talent Collaborative.
Meaghan Williams
Meaghan Williams is passionate about distributed teams. Meaghan is a Remote Work and Inclusion Program Manager at Hubspot.
Follow Meaghan Williams on Twitter LinkedIn
Sophie Wade
Sophie Wade is a remote work advocate, a speaker, and a founder and Workforce Innovation Specialist at Flexcel Network. Follow Sophie's blog for more on remote work and the future of work.
Follow Sophie on Twitter LinkedIn
Wayne Turmel
Wayne Turmel is passionate about companies and individuals working remotely. Wayne is a co-founder and Product Line Manager at The Remote Leadership Institute.
Follow Wayne on Twitter LinkedIn
Kate Smith
Kate Smith is a remote work expert and the founder of WiFly Nomads, a startup that helps individuals learn how to start working remotely. Kate also runs the WiFly Nomads Podcasts, which is worth listening to.
Follow Kate on Twitter LinkedIn
Liam Mclvor
Liam Mclvor is a remote advocate building tools and helping people and companies go remote. Liam is the co-founder of both Staff.com and Time Doctor, as well as co-organizer of the remote conference "Running Remote".
Matt Mullenweg
Matt Mullenweg is one remote expert you would love following. As someone managing one of the best remote companies in the world, there's a lot to learn. Matt is the co-founder of WordPress and CEO of Automattic.
Follow Matt on LinkedIn
Wade Foster
Do you know Zapier, the platform that allows you to automate your applications, is fully remote? Wade Foster is the CEO of Zapier and a remote work enthusiast.
Follow Wade on LinkedIn
Steli Efti
Close is a sales tool for nurturing client relationships and Steli Efti is the CEO. Close's team is 100% remote and Steli's experience in scaling such a remote team is enormous.
Follow Steli on Twitter
Rodolphe Dutel
Buffer is one of the best remote companies out there, with teams spread across the world. Rodolphe Dutel worked as a director at Buffer, which cemented the love for remote work. Rodolphe is currently the founder of Remotive and produces great content on remote work.
Follow Rodolphe on Twitter or on Medium
Nishchal Dua
Nishchal Dua is an entrepreneur, growth marketing consultant, speaker, and a remote work advocate. Nishchal is the founder of The Remote Life, a company that brings freelancers, remote workers, and digital nomads together for work and play.
Follow Nishchal on Twitter
Debbie-Jo Dutton
Debbie-Jo Dutton is a coach and mentor to freelancers, an entrepreneur, and a remote work advocate. Debbi-jo is the founder of Remote Work Hub, a comprehensive resource platform for all things remote.
Follow Debbie on Twitter
Ali Greene
Ali Green is a remote work advocate who is also passionate about traveling, company culture, and everything people operations. Ali is director of people operations at privacy-focused web browser DuckDuckGo.
Know any remote work advocate, expert or influencer we might have missed? Don't forget to leave us a comment and we would add them to this list.
Further Reading:
What Are W-8 BEN and W-8 BEN-E Forms?
27 Must Listen Remote Work Podcasts in 2020
Companies Building Tools For Remote Teams