Do you sometimes wish you could get rid of annoying background noise in your calls? Do you always have to hide in your washroom to communicate with important clients? Are you always worried about your loud children and crying baby interfering with your calls? To some, it may seem unprofessional, especially if it's an interview or an important meeting with your boss or even a client. If you are a remote worker then it's not far fetched that video calls or audio calls will take up a greater part of your communication between clients, your boss or your coworkers.
Fortunately, with the advancement in technology, you can now enjoy your calls without having to worry about the noise in your background – the sound of noisy home appliances like a blender or a washing machine.
These awesome game changer apps and software will take away unwanted noise and reduce it so that you can enjoy a quieter conference call.
NoiseGator (Noise Gate)
This is a simple noise cancellation app that is used with Voice over Internet Protocols(VoIPs) like Skype. You can now reduce background noise when talking with others on Skype, with this application.
You can also cut out noise from your own microphone or play audio through your speakers. It has a dynamic processor that controls the volume of an audio signal. This application can be used with a virtual audio cable to act as a noise gate for either a sound input or sound output.
To use NoiseGator, it's recommended that Windows and Mac users have Java 7 or higher. Also, a virtual audio cable is required for use with Voice over Internet Protocols.
SoliCall Pro
SoliCall Pro is an innovative and patented noise reduction technology that improves audio quality when making calls. It can be used on all modern versions of Windows. You can now enjoy echo and noise-free calls on both the caller and recipient's side.
SoliCall Pro works well with all commercial softphones and audio formats. The softphone software can be installed on a desktop or mobile device. Users can make and receive calls without requiring an actual telephone set.
It supports Windows 7, 8, 8.1 and 10. It is a cross-platform software so it is compatible with many devices and is available for cloud-based communication. SoliCall Pro also gives users a 3-day free evaluation period.
Krisp
Krisp is another awesome application that reduces background noise. With a click of a button, you can cancel the noise in your background and experience a conference call without any hitches. Krisp is suitable for professionals who work from home or public workspaces, online teachers, podcasters and remote teams. You can have productive call meetings without having to worry about noisy backgrounds. You can enjoy noise-free remote classes with your students and team members. Podcasters can also record high-quality podcasts that are devoid of noise for their audience.
Krisp is a cross-platform application. It works well on any device. Krisp has a Free plan which is perfect for professionals who work remotely occasionally. This application's Pro plan is suitable for professionals who want to enjoy full freedom, and it is billed yearly at $3.33 per month. The Teams plan is perfect for remote teams working in an open office, which is also billed yearly at $3.33 per month but per user.
Ams Active Noise Cancellation Software
Ams Active Noise Cancellation (ANC) is a noise-cancellation software for headphones and headsets, which significantly reduces unwanted noise from the environment while preserving the original audio signal, and improves the quality of audio from both the caller and receiver's end. ANC helps to reduce noise-induced stress and enhances the listening experience of mobile and multimedia applications.
This noise-cancellation application enables hussle-free communication on mobile phones and protects your hearing in noisy environments. It also improves comprehension during phone conversations and increases listening comfort.
Sound Amplifier (Android)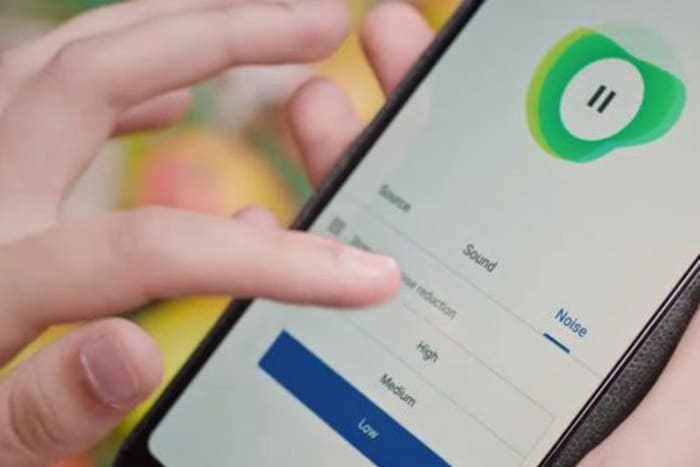 Sound Amplifier increases important audio sounds in a conference call, without amplifying distracting noises. This application has cool features that you can use to quickly customize sound enhancement and reduce background noise. This app has cool features that filter, augment, and amplify sounds around you and on your device.
Sound Amplifier further improves audio from your Android device using headphones to provide a more comfortable listening experience. Filter and augment audio wherever you are by using this application on your Android device. With this application, audio is clearer and easier to hear.
You can also personalize your listening experience by adjusting audio or microphone settings with a simple tuning UI or use Bluetooth headphones to help you hear better. However, Bluetooth headphones might have delayed sound transmission.
Further Reading:
What Are W-8 BEN and W-8 BEN-E Forms?
27 Must Listen Remote Work Podcasts in 2020
What is Payroll? Introduction to Payroll