---
Remote working has now become a growing trend with an increasing number of sectors now facilitating remote work. Consequently, more and more companies around the world are offering this form of flexibility.
The emergence of digitization has stimulated the general trend of remote working. According to the ONS (Office for National Statistics), 1.54 million people worked remotely in 2018 as compared with 884,000 a decade earlier (in 2008).
Team communication, collaboration, and workflow management are recognized as the keys to a successful work environment.
Chat is the workplace for remote teams. Remote communication over chat can be at least as good as sharing a traditional workplace when done well. Choosing the right office chat software for your team is crucial, for sure. With these tools, team members can have virtual daily meetings where they can share current tasks, plan sprints, and even ask for instant feedback.
Although the main task of an office chat software is to bring people together and facilitate an organization's workflow, it also increases employee engagement at the same time. When employees are engaged, overall employee productivity also improves.
A wide variety of instant chat tools are used for external and internal communication in remote teams and we have picked the top ones for you:
Slack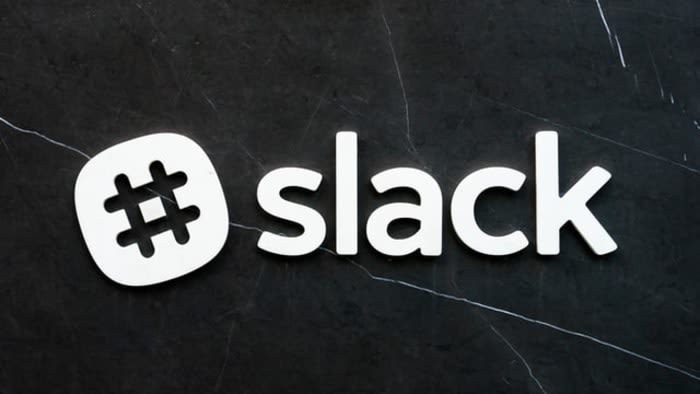 Slack is a team communication tool founded by Stewart Butterfield. It began as an internal tool used by Stewart's company while developing an online game.
You might also recognize Stewart's name as being one of the Co-founders of Flickr so it should be no surprise that Slack is a rock-solid platform that does incredible things for team management.
It's simple to share files, access archives, and create private and public reminders.
Slack Pros
Slack has flexibility around notifications, that makes you able to control which notifications you'd like to receive.
You can create separate "channels" & groups, which means communication is organized & categorized. E.g. channels for announcements, tech-related troubleshooting, different departments, etc.
Slack Cons
A channel initially created as private can't be changed to the public. However, the reverse is possible, public channels can be made private.
The flip side of all the good features, "fun" aspects of Slack can be a distraction from real work if you're not careful…
Bottom Line
Slack is a great tool for communication & collaboration. It houses a workplace directory, so any employee can be searched for by name. Sending a direct message to any individual in the company is as simple as finding their name, then typing a message & pressing the send button!
Essentially, it's a hub for all communication: individual, team, and company-wide announcements can be easily distributed by using Slack.
Google Hangouts Chat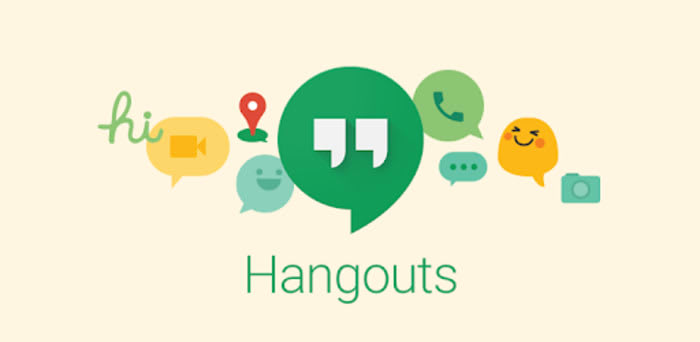 Hangouts Chat makes it easy for teams to be able to get their work done in one place. From direct messages to group conversations, Chat helps teams collaborate easily and efficiently. With dedicated, virtual rooms to house projects over time plus threaded conversations Chat makes it simple to track progress and follow up tasks. Chat currently supports 28 languages and each room can support up to 8,000 members.
Pros
It is free!
It has the compatibility with multiple devices.
It's easy to integrate with all other Google products.
The functionality makes it possible for users to view content from Google Drive and Google Docs from within the chat stream. A "search" tool lets users go back to the conversation history within the thread.
Cons
It is impossible to use Google Hangouts Chat without Wi-Fi connection, this is a big problem on those occasions, where we do not have a data signal or Wi-Fi connection,
Zoom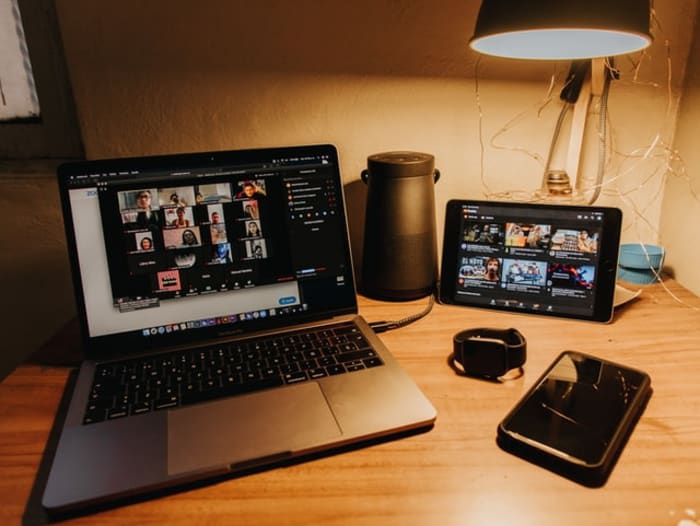 Zoom is designed to help more than 700,000 businesses around the world bring their teams closer together with innovative communication and collaboration services.
Zoom features whiteboard, screen sharing, HD video and audio, and remote screen control features, dual-screen support.
Zoom Pros
For those who want to host a webinar online, the Zoom video webinar feature provides access for up to 100 interactive participants, with packages that allow for up to 100,000 view-only attendees.
Zoom Cons
Zoom's free service plan is another positive, but meetings in the free plan are limited to just 40 minutes, which could create a problem for some businesses.
Another downside of Zoom is the Free and Pro plans have limited customer support options.
The Bottom Line
Zoom has recognized as being one of the best options on the market. The app is easy to use, its stability, video, and audio quality are pretty great.
GoToMeeting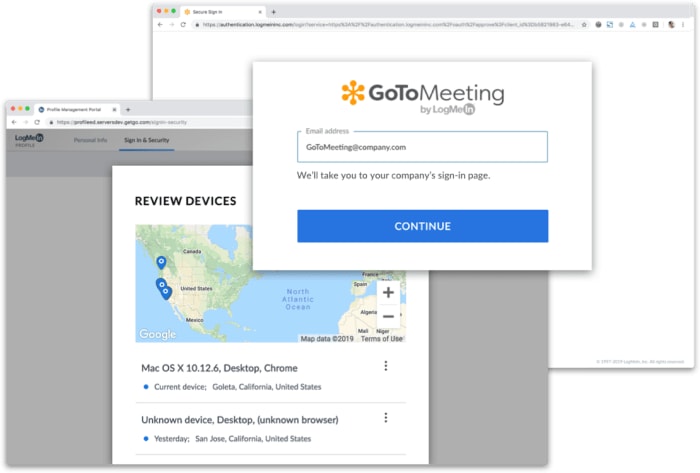 GoToMeeting is a web conferencing tool that allows users to host an online meeting with up to 100 participants. Users can share any application on their computers in real-time. GoToMeeting offers high-definition video conferencing and unlimited meetings with remote colleagues.
Attendees can connect to meetings from their Mac, PC, iPad, iPhone or Android device.
Leaders can start a meeting instantly by clicking "Meet Now", schedule a meeting in advance, or create a recurring meeting that is ready to use at any time.
Guests and attendees join meetings free of charge; and the apps are free, too. Attendees simply click the meeting link provided by email or instant message or enter a meeting ID given to them over the phone. The meeting organizer can share either their whole screen or choose to just show a specific application, including high-definition video conferencing.
GoToMeeting Pros
Allow to audio or video conferences, allow to share the screen or give control of your desktop to a participant of the meeting, record the sessions.
The meetings may have an owner that can set different level of permissions for the participants, e.g. allowing people to the meetings as listeners but forbidding to talk.
Consult from anywhere.
Keep clients up to date while avoiding costly on-site visits. Securely share documents, designs and project plans online.
Use Drawing Tools to highlight main ideas on-screen.
The meetings can be scheduled without the need for a calendar app.
You can have your scheduled daily scrum meeting and just need to access GTM to attend. It also counts with Google Chrome plugin and a Google Calendar integration in case you're more comfortable that way.
To invite people to a meeting is also really simple.
It is possible to send a regular mail invitation, but it is also possible to do it by sharing a URL link or the meeting Id number.
Besides all these features, the audio/video quality is excellent.
It permits large meetings.
With GoToMeeting, you can host very large meetings if you want. Options for up to 250 attendees are possible with this SaaS option. That makes it possible to turn your meeting into a webinar, an all-company event, or a large-scale meeting with your customers. Because of this flexibility, your meeting options are almost unlimited.
There are numerous integrations available.
GoToMeeting has worked hard over the years to offer numerous integrations that are useful for meeting participants. You can integrate Zapier, Google Calendar, and even Chrome into the software to maximize your productivity.
GoToMeeting Cons
There is a cost to access the premium features you may require.
GoToMeeting does not offer an "always free" plan. To take advantage of drawing tools, unlimited recording, and mobile apps, you're forced to use the Pro plan, which is $29 per month and 150 participants.
The quality of the equipment matters.
If you're using an older machine or device, there's a good chance that it won't work as intended – assuming it works at all. As a general rule of thumb, if your equipment is more than 5 years old, then you'll need an upgrade before you can take advantage of the benefits offered by GoToMeeting.
The chat option is somewhat limited.
Unlike other meeting SaaS options, GoToMeeting limits the chat function to chatting within the meeting. You're not permitted to create chat rooms within your company to help your teams collaborate before coming into the meeting. Think of GoToMeeting as more of a meeting tool than a real-time collaboration tool, even though you do have the option to share documents with others in real-time.
In Conclusion
You're given access to video, audio, and screen sharing options. It is easy to use and integrate into your current business practices. Although there are some limitations for certain users, for the most part, it is a simple, straightforward service that will make your meetings more productive.
Trello
Trello is a web-based collaboration and project management tool that can aid in the planning of all of your projects in a single platform. The system itself is exceptionally visual and very highly adaptable, Trello utilized a three-tier information system. This system comprises of boards, cards, and lists. Projects and information about them would find themselves organized into boards. These boards, in turn, contain lists. These lists are then given titles, and they will have their cards. These cards create the basic unit of a Trello board. Users have the flexibility to drag and drop lists onto any board they choose. When these tasks are complete, you can either choose to save them to your profile or; you can save them to the cloud.
Trello Pros
Daily Organization.
If your day is filled with all sorts of tasks, having all of these tasks in a single place can be essential. Trello can collate all of your tasks into lists and still enable you to get a great view of your entire day.
Time Tracking.
It is a fabulous way to increase your productivity.
Organize a Reading List.
If you have a slowly growing catalog of books that you want to read, you could simply keep a list on Trello by creating cards for each.
Plan a Vacation.
Planning a vacation can usually involve a lot of decision making. Trello helps to simplify this by creating lists for daily activities.
Manage Your Budget.
Trello can aid in the creation of a financial plan. You can set up cards and track income and outgoings whenever you need them.
Project Management.
Whatever your project may be, Trello will be on hand to help. Creating a board with individual lists will be the may manage all those little tasks that are a part of your overall project.
Ease of Use.
It allows for easy communication, updates on tasks, and the general oversight of a project. Trello is a powerful tool for managing remote projects, and it's free. You may create several backlogs and organize your tasks into boards that can be divided into several categories: 'In planning', 'In progress' and 'Done'. It is a great tool for those teams that are practicing the Scrum Agile development methodology.
Trello Cons
No Data, No Trello.
If you haven't access to the internet, you have no access to your Trello. Data access may not seem like an issue given the age we live in, but unfortunately, there will always be situations when you cannot access data.
Storage Is Limited.
Although Trello can hold many attachments, these attachments are limited to 250MB per upload, should you be a gold member. The issue is that you only have a 10MB per upload allowance if you are a basic member.
Commenting issues.
An ongoing issue with Trello that needs to be rectified is that you cannot edit a comment on the card. Once a comment is posted and saved, you will only get the option to write a new comment rather than edit the original one.
Don't Go Too Large.
When it comes to smaller projects, Trello holds its own. If however managing projects on a larger scale is required, maybe Trello isn't the best option.
Rocket.Chat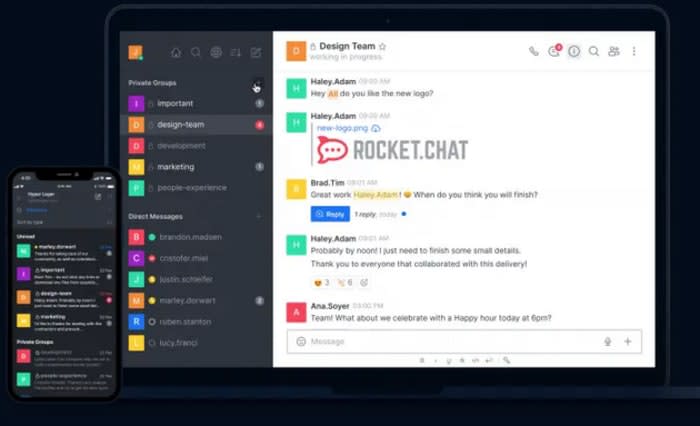 Rocket.Chat is an affordable open-source online communication software. Rocket.Chat's free plan is pretty generous, it offers free chats, video talks, group chats, and screen sharing.
Supports: Windows, macOS, Linux, Android, iOS
Pricing Overview
Free Plan: Recommended 1k users, unlimited integrations, multilanguage interface
Pro Plan: Offers free plan features plus unlimited users, hourly analytics reporting, real-time sync LDAP / Active Directory, Atlassian integration apps bundle
Enterprise Plan: Pro features plus onboarding calls, unlimited push notifications. They offer tiered pricing and volume discount.
Troopmessenger.com
Improve your team's work productivity with the best collaboration tool. Try looking into the Troop Messenger once. And, you never feel disappointed after exploring its exceptional features-stack and UI.
Alongside offering unique messaging facilities, it has advanced group calling and remote screen sharing features where the users can add users during the call, initiate screen share during the group call, or vice
versa. Out of many exceptional features like Forkout for sending mass messages, Burnout window for exchanging confidential messages, advanced data filters for retrieving the required data quickly. It supports many useful integrations.
Pros
  Easy-to-use UI with heightened UX
  Anytime product-help and support
  Exceptional admin privileges on users and groups
  Cost-effective from other tools of the same genre
Cons
  Need some project management tool as an integration
Facebook Workplace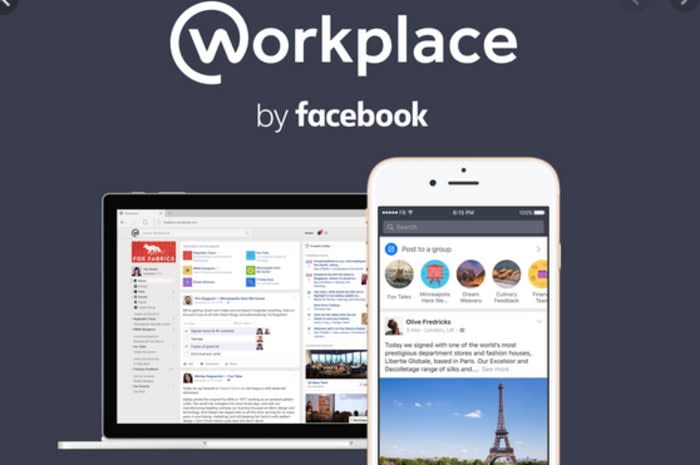 Workplace connects everyone in an organization using familiar Facebook features like chat, video calls, posts, and groups. It works alongside the business tools you already use, providing a simple, secure, and productive way for people to share knowledge and build connected teams.
Workplace has a free version. Premium package starts at $4.00 per month, per user. Workplace does not offer a free trial.
Pros
Workplace has a free version.
Facebook, the largest social media platform in the world, has 2.4 billion users. Well, they know how it works, its functionalities, and benefits for keeping in touch with the people. Now, it is available for exclusive work use. Consequently, no training needed. Everyone on-board right away.
User-friendly interface. Given that, unlike Facebook, Workplace is not focused on advertising to users, this is a good choice by the developers.
Cons
The admin controls don't allow full access.
Things like removing an employee, have to be done via email to support. You can deactivate an employee but simple employee removal is a must for most organizations.
Zoho Cliq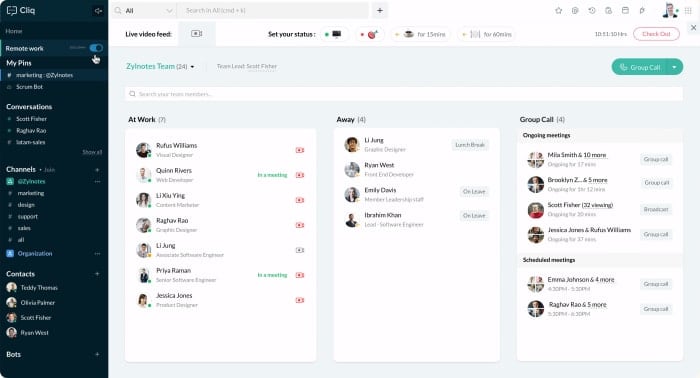 Zoho Cliq borrows many of the best features from team messaging apps like Slack, and adds the ability to see multiple channels in one window, for a lower price.
Zoho has a reputation for making high quality, cloud-based business software that doesn't cost a fortune. Its business messaging app, called Zoho Cliq, is no exception. This thoughtful and speedy messaging app borrows some of the best ideas from its competitors and adds a unique paneled layout so you can view multiple discussions at once. Cliq also costs less than any other app in this space. In terms of features and integrations, Zoho doesn't yet rival Editors' Choices Slack and Microsoft Teams, but it's a wonderful option if you prefer its layout or if your team needs to keep costs low.
Pros
Shows more than one chat at a time.
Forking options for branching discussions.
Neat broadcasting tool.
Inexpensive.
Cons
No keyword notifications.
Better options needed for Out of Office and Do Not Disturb modes.
Microsoft Teams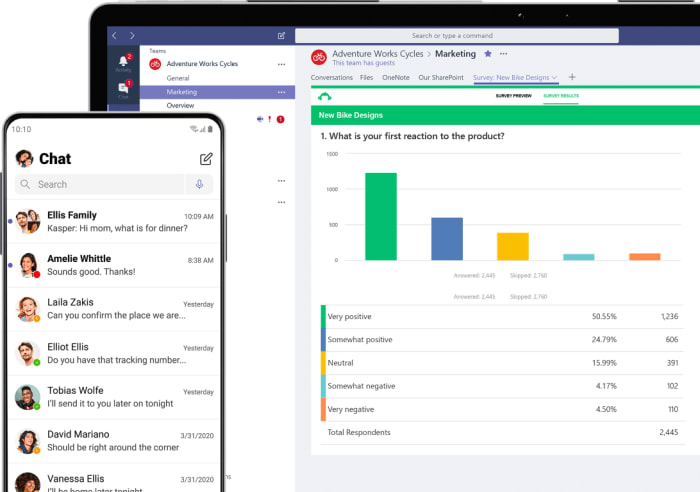 Microsoft Teams provides features galore, including tight connectivity with Office 365. It's a great team messaging app if your organization is a Microsoft shop.
Teams, the business messaging app from Microsoft, reminds me of a lot of IKEA's self-service section. If you work in that vast warehouse and have memorized where everything belongs, you probably navigate the place with ease. It's clean, orderly, and sequentially numbered. If you're a customer coming down from the showroom, however, it could take a while to find the aisle number, bin area, and shelf where you should look for your new Korshamn (whatever that is). Everything is in its place, so long as you know how to find it. Once you know what you're doing, it's a powerful tool for staying in touch.
Pros
Shows more than one chat at a time.
Forking options for branching discussions.
Neat broadcasting tool.
Inexpensive.
Cons
No keyword notifications.
Better options needed for Out of Office and Do Not Disturb modes.
Flock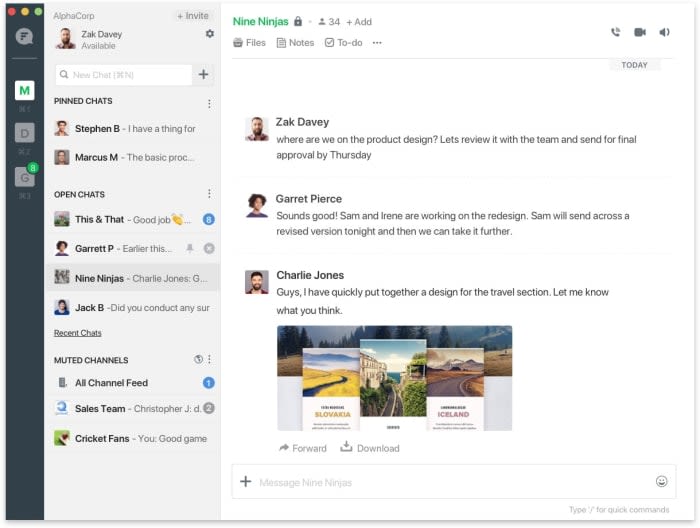 Flock is a popular team communication app and online collaboration platform that comes with team messaging, project management and other great features in one software. It effectively organizes all your conversations, tools in one place so that you can focus on what matters the most. In simpler words, it is convenient, real-time, and makes communication seamless and easy.
Features:
Create channels for focussed discussions and meaningful conversations
Jump onto video calls with just a click and connect with remote team members
Drag and drop files and see previews of shared files
Access the entire company directory for better collaboration
Integrate over 60+ third-party apps
Cons
The trouble that Flock bugs users the most is this– it was made necessary to enable email access if you want to get into the system. Once you enter the email address, you will have to wait for the verification code to send to your phone. If you think this is only a one-time suffer for the first sign-in, then you're wrong – they literally made it a login routine, so you have to bear with it every time thereafter.
Flock Pricing
Free plan: Search up to 10K messages, 10 GB file storage, limited admin controls, standard support
Pro: Search unlimited messages, 10 GB file storage per licensed user, enhanced admin controls, priority support. $4.50 per user, per month, billed annually.
Enterprise: Search unlimited messages, 20 GB file storage per licensed user, enhanced admin controls, dedicated support. It can be requested on the website.
Chanty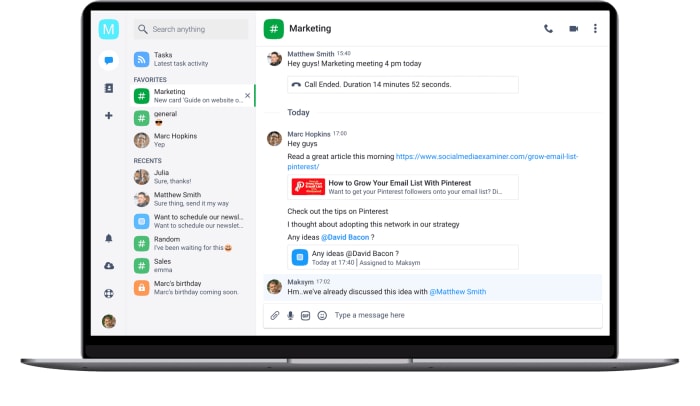 Chanty is an easy-to-use, AI-based team chat app that lets your team communicate and collaborate quickly and efficiently. Chanty brings all aspects of communication together: chat, audio and video calls and screen sharing. Besides communication, you can also do some light project management and turn messages into tasks. There are useful integrations with Google Drive, Trello, Dropbox and Github, among others. Our favorite is the Teambook – where you can see all of your messages, contacts and tasks in one place.
Features:
You can communicate through chat, audio and video
You can use threaded messaging
Teambook to access all of your content in one place
Unlimited message history in the free plan
Easy to use search option
Pros
It is cheaper in comparison to alternatives.
Cons
Screen sharing is not available in the free plan.
Chanty Pricing
Free plan: Supports up to 10 team members.
Business plan: unlimited multi conversation guest, unlimited integrations, group audio calls, screen sharing, $3 per user per month
Supported platforms: iOS, Android, Windows, macOS, and Web
Bottom Line
Chanty is a simple team chat tool to boost communication and productivity in teams of all business segments.
Conclusion
This article will help you determine the best instant messaging software that suits your business.
All these applications are customizable for your business, easy to use, and allows you to have effective communication.
Further Reading:
27 Must Listen Remote Work Podcasts in 2020
What Are W-8 BEN and W-8 BEN-E Forms?
How to Encourage Personal Development in Remote Teams?